I recently designed a really pretty unique necklace. It looks great with the style of long shirts and long sweaters. Even the blanket coats. It is a wonderful bohemian, shabby chic feel to it and includes some of my favorite things - wire-wrapped beads, Czech glass beads and handmade artisan beads.
Humlebeads
. Lampwork glass by
Kimberly's Corner
.
And then, I was watching Annie with my daughter. The original 1982 version. I loved this movie when it came out and love it now. I loved belting out "The Sun Will Come Out Tomorrow" in the shower as a kid and my girl scout troop did a rendition of the "It's a Hard Knock Life" (in Scouts). Much to my daughter's chagrin, I can still sing all of the songs from this wonderful movie. I was so into the movie, that at the time, I had the doll, the record and even for Easter one year, got the Annie locket (and still have it - well, I gave it to my daughter).
So, back to watching Annie with my daughter. I couldn't help noticing Miss Hannigan's (Carol Burnett) wonderful jewelry collection. Even in her scanties, she always had an abundance of costume jewelry. Long chain and beaded necklaces. The kind that are popular now. And I was thinking how the necklace I made might fit into her wardrobe.---It just made me laugh.
**
Image from: http://www.buzzfeed.com/lizlanteri/how-to-get-through-monday-by-miss-hannigan-63hh
*Image from: http://parade.com/229552/carole-burnett-and-annie-ftr/
Seriously, though, this is more an idea of the outfit I was thinking of wearing with this necklace: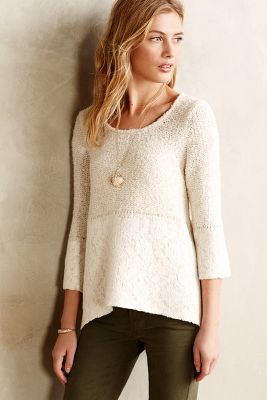 Goodness, aren't these pretty? and much better than walking around in underwear and feather boas.
This shirt can be found here:
Anthropologie.
and the sweater here:
Anthropologie sweater
******************************************************************
One last thing, for the Annie fans - did you hear a new one is coming out in
December 2014
? With Cameron Diaz as Miss Hannigan? She is supposed to much more edgy? (She has big shoes to fill!) Can't wait to go with my daughter!